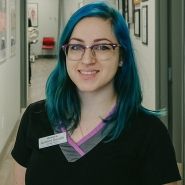 Registered Massage Therapist
Available at multiple locations
About
Jasmine became a Registered Massage Therapist because of her passion for helping people and working with them to free them of pain. She graduated from the 3000-hour program at Makami College.
Jasmine is trained in Swedish relaxation massage, deep-tissue massage, sports massage, myofascial release, hot stone massage, cupping and lymphatic drainage. Her experience with weightlifting, working out and recovery makes her focus on sports massage and relaxation.
Jasmine's approach to massage therapy is to use a combination of therapeutic and relaxation techniques to work with each client's individual needs and it is very important for health of the body and mind. Her goal is to free clients of stress, pain and injury while growing her practice and sharpening her skills in the field.