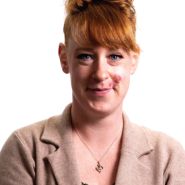 Available at multiple locations
About
Jenn has been working at Regina Sports and Physiotherapy Clinic since early 2013. She graduated from the University of Saskatchewan in with her Masters of Physical Therapy in 2012. Prior to this, she received a Bachelor of Kinesiology from the University of Regina in 2010.  
She has expanded her clinical skills with a variety of continuing education courses, some of which include: Mobilization of Muscles, Instrument Assisted Soft Tissue Mobilization, The McKenzie Institute of Canada Part A Lumbar Spine, Running Repair Course, as well as The ISM Series Clinical Mentorship in the Integrated Systems Model with Diane Lee in 2019.  
Jenn really enjoys working with athletes and children and has a particular interest in the abdominal cavity (including working with individuals who may have hernia's, who may be pregnant as well as postpartum individuals).  She is passionate about empowering patients to take an active role in their rehabilitation via education and exercise prescription. Her additional training provides a different perspective into how each body region(s)/system(s) work together and how together, they can be influencing your physical ailment. Her goal is to give you the power to manage your symptoms and help you reach whatever your goals may be.