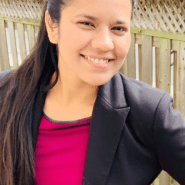 Available at multiple locations
Languages Spoken:
English
Gujarati
Hindi
Punjabi
2255 St-Laurent Blvd.
Suite 120
About
Jhanvi is a qualified and experienced professional who graduated as a PT from the University of Saurashtra located in India in 2016. After graduating, she started working for a non-governmental organization in India where she got the chance to serve kids and adults with special needs.
After working for almost two years, she came to Canada as a student and completed her diploma in Health Wellness and Fitness. She found that having a combined knowledge of wellness and physiotherapy works nicely to improve a patient's daily lifestyle. She motivates, educates and inspires her patients to make small shifts in their lifestyle to transform their health and reclaim their lives. She also believes having a purpose of helping others to live better makes a great difference in one's life.
Jhanvi has experience in neurological rehabilitation, Parkinson's disease rehabilitation, stroke rehabilitation, Multiple Sclerosis rehabilitation, traumatic brain injury treatment, and in-home or in-residence treatment