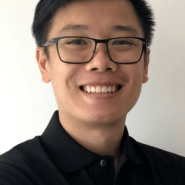 Available at multiple locations
Suite 182
26 Thomas Raddall Drive
About
Originally from Brampton, ON, Johnson graduated from York University with a Specialized Honours in Kinesiology and Health Science. After working as a Registered Kinesiologist and gaining invaluable clinical experience he began to pursue and complete his Master's of Science degree in Physical Therapy at the University of Toronto. 
Since graduating, Johnson has worked solely in orthopaedics and continued his education with courses in Functional Dry Needling and the Advanced Integrated Musculoskeletal Physiotherapy program through the Orthopaedic Division of the Canadian Physiotherapy Association. 
Johnson has an active background involving track and field, distance running, weightlifting and dragon boat. This active background has taught him efficient movement and gradual loading is the key component to rehab. Johnson will typically incorporate hands-on manual therapy followed by corrective exercises aimed at increasing both efficiency and loading capacity of movements. He is always looking forward to finding creative ways to keep patients moving throughout their rehab process and helping them return to their previous activities and sports.