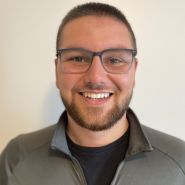 Available at multiple locations
5110 St. Margaret's Bay Road
Suite 103
About
Justin uses a combination of exercises and hands-on treatment to allow clients to reach their rehabilitation goals. He tries to empower his patients with home exercise programs tailored to their individual needs in order to regain their ability to do day-to-day activities and the things they enjoy.
Justin grew up in Moncton, New Brunswick, where he mostly spoke English, but went to French school up until he began Physiotherapy school in the Fall of 2018. He is fluent in both English and French.
In 2018, Justin completed four years of a Bachelor of Science – Kinesiology from Universite de Moncton in his hometown of Moncton, NB. He then moved to Halifax, NS to complete a two-year Master of Science – Physiotherapy program at Dalhousie University from which he graduated in 2020.
Growing up playing sports, Justin has always enjoyed watching and following his favorite sports teams: The Pittsburgh Penguins, the Las Vegas Raiders, and the Toronto Raptors. In the summer, he enjoys golfing, hiking, and spending time outdoors in the sun with friends and family. During the winter, he tries to go skiing, skating, and playing pond hockey with friends.