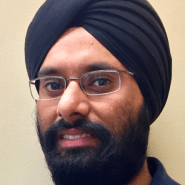 Available at multiple locations
16 Four Seasons Place, Ste 203

2155 Lawrence Ave E, Unit 14
About
Dr. Karandeep S. Riar earned a Honours Bachelor of Science degree from McMaster University and then went on to complete a Doctorate in Chiropractic. While completing his one-year internship, Dr. Riar was recognized with the Health Centre Award for clinical excellence. Dr. Riar has obtained in-depth training in chiropractic adjusting, myofascial release therapy, instrument assisted soft tissue therapy, functional movement analysis, the use of various modalities, orthotics therapy and rehabilitation therapy.
Dr. Riar also holds a certificate in Contemporary Medical Acupuncture from McMaster University. Dr. Riar is a firm advocate of patient-centered evidence-based healthcare. He spends a lot of time keeping updated on current literature and attending various musculoskeletal seminars to expand his knowledge and apply it to patient care. His approach consists of getting patients out of pain as well as identifying and correcting aberrant movement and motor patterns that led to the patient's problem in the first place.
In his spare time, Dr. Riar enjoys keeping fit through resistance training, running and playing basketball.
Dr. Riar is certified in Medical Acupuncture, Graston Technique M1, Myofascial Release Therapy, and Custom Orthotic Therapy.