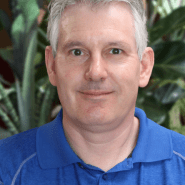 Available at multiple locations
About
Ken graduated from the University of Saskatchewan with a Bachelor of Science in Physical Education in 1995. Ken has been working in the rehabilitation field as a Kinesiologist since 1995 in Saskatoon and on Prince Edward Island. Ken is a Certified Exercise Physiologist through the Canadian Society of Exercise Physiology (CSEP-CEP), a Certified WorkWell Functional Capacity Evaluator, and an EPIC Lift Capacity Certified Evaluator.
Additionally, Ken has training in Matheson Functional Capacity Evaluation testing and he is also well trained in numerous other rehab-related courses. Ken has helped develop and instruct courses for Lifemark including the Occupational Rehab program, Pain program and Cancer Care program. His area of expertise is in Functional Evaluating, Acute to Chronic Patient Care and Ergonomic Evaluation. His special interest is in Functional Assessment and Office Ergonomics.
Ken enjoys spending time with his wife and three boys. In his limited spare time, he enjoys participating in and watching sports, biking, hiking, and working around the house and yard.