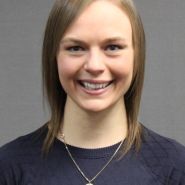 Available at multiple locations
About
Kendra was born and raised in Red Deer, but has called the Edmonton home for the past six years. Kendra began her post secondary education at Red Deer College and finished it at the University of Alberta, where she graduated with a Bachelor of Science in Biology and a Master of Science in Physical Therapy. While in Red Deer, Kendra played competitive volleyball with the Red Deer College Queens and coached for their community club teams. Her love of coaching then carried over to the Northern Alberta Volleyball Club (NAVC) teams here in Edmonton.
Kendra has kept herself busy with sports since she was young, taking a special interest in athletics, rugby and volleyball. Her love of sport and physical activity initially drew Kendra towards a career in physiotherapy, but it was ultimately her time spent volunteering at the Steadward Center that won her over. It was there she found her passion for patient-centered care and meeting people where they are at.
Whether that is returning to a team post injury, improving function for work demands, or adapting movement to enable participation in the activities you love. What is important to her, is keeping you engaged with what is important to you.
Kendra is eager to provide detailed assessments, evidence-based interventions, and patient-centered treatment plans, aimed towards achieving your goals. She believes physiotherapy is a team effort and each client can expect a unique combination of education, therapeutic exercise, manual therapy, and modalities. As well, Kendra offers dry needling, which can be used in adjunct to her treatment plans depending on the individual.
Outside of work you will likely find Kendra sipping coffee while playing the piano, in the gym coaching volleyball, watching Gilmore Girls for the 9th time, flopping the snowshoes around or sitting in a canoe eating ice cream.