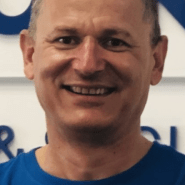 Registered Massage Therapist
Available at multiple locations
About
Chris Perlik is an experienced registered massage therapist with over 20 years of practice. He is skilled in various techniques, including hydrotherapy, sports therapy, chronic care treatment, MVA injuries, and Swedish massage. Chris also employs an osteopathic approach in his treatments, ensuring that his clients receive comprehensive and personalized care.
Chris received his Massage Therapy Certification from Sir Sandor Fleming College in Peterborough, where he gained a strong foundation in massage therapy. He later completed his Diploma in Osteopathy Manual Practice at the Canadian Academy of Osteopathy and Holistic Health Sciences. In addition, Chris has undertaken numerous continuing education and certification courses, including cranio-sacral therapy, advanced soft-tissue manipulation, lymphatic drainage, electrotherapy, therapeutic ultrasound, cancer care, and visceral manipulation.
Through his years of experience and education, Chris has developed a unique understanding of his clients' needs, making him an attentive and caring practitioner. His expertise and commitment to his clients make him a sought-after massage therapist.