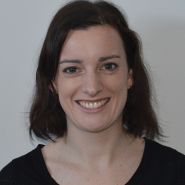 MPT, MClSc (Manip), FCAMPT
Available at multiple locations
190 Wortley Road
Suite 207
About
As a teenager in Scotland, Laura knew that her passion for sport and physical activity would lead her to work in health and wellness. After moving to Canada, she completed her BSc (Hons) in Kinesiology in 2005 and her Master of Physiotherapy in 2007 at the University of Western Ontario. She went on to complete a Master of Clinical Science in Manipulative Therapy at Western University (2012), which concurrently made her a Fellow of the Canadian Academy of Manipulative Physiotherapists.
Laura has remained a big fan of London, Ontario since her university days and is currently the Clinic Director at Lifemark Wortley Village in beautiful Old South, where she has been a valued team member since 2008.
Laura's varied clinical interests include orthopaedics, vestibular rehabilitation, concussion management, pelvic health and cancer rehabilitation and she continues to pursue education in these areas. Her compassion and attentiveness are why her patients return to see her when a new injury arises. She strives to build strong, trusting relationships and sees physiotherapy as a springboard an independent, healthy and physically active lifestyle. We all have goals that are important to us, whether it's to run an ultra-marathon or to get down on the floor to play with the grandchildren, and Laura's mission is to help you find ways to achieve your goals.
Laura is the Past Chair for the London Orthopaedic Unit and has also volunteered as blog writer and editor for the Orthopaedic Division of the Canadian Physiotherapy Association. She has volunteered for the Global Health Division of the CPA as well as Physiopedia, an open-access knowledge-sharing website for physiotherapists. She has also provided voluntary medical coverage at many sporting events, including the 2006 World Lacrosse Championships, the 2010 BMO Canadian Figure Skating Championships, the 2010 Canadian Special Olympics and the 2014 Ride to Conquer Cancer.
Laura's favourite past-time is being entertained by her children. She also enjoys cooking (and eating), playing soccer and running in half marathon events. In 2018, she helped to bring parkrun to London and continues as Event Director for Kiwanis parkrun, where she loves managing a team of volunteers who provide free weekly timed 5km events for anyone who wants to run, jog or walk in a fun and friendly environment.