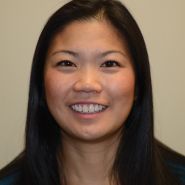 Available at multiple locations
About
Louisa graduated with a Master of Physical Therapy from D'Youville College, Buffalo, New York in 2008 after completing a specialized honours degree in Kinesiology and Health Science at York University. She has completed training in acupuncture and is a certified acupuncture practitioner by the Acupuncture Foundation of Canada Institute.
Louisa has completed training under Robin McKenzie levels A and B, vestibular and concussion rehabilitation, and cancer C.A.R.E.  Louisa's physiotherapy practice utilizes manual therapy, exercise prescription to correct/resolve muscle imbalances that lead to musculoskeletal injury and impairment, as well as acupuncture and other modalities. Her goal with each patient is to educate them about their condition and causative factors in order to empower them to take an active role in their rehabilitation process. She is a firm believer that an active treatment plan is the key to a successful recovery.
Louisa comes from an athletic background of playing rugby for York University and the Town of Markham. She also has trained in the martial art of Wing Chun for 15 years. Her philosophy and strive for excellence is cultivated from these physically and mentally demanding sports and they directly influence her clinical practice, resulting in positive outcomes and improved overall well-being.