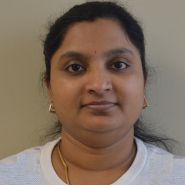 Available at multiple locations
190 Wortley Road
Suite 207
About
Malini is an internationally graduated physiotherapist from India. She completed an undergraduate degree in Physiotherapy in1999 and a Master in Physiotherapy in 2009 with a major in Paediatric Neurology.
Malini is experienced with retraining gait and balance impairments, developing strategies to manage spasticity, tone and incoordination, creating programs for milestone development and sensory-motor integration for various neurological conditions including Cerebral Palsy, Down's Syndrome, TBI, stroke, Parkinson's Disease and Multiple Sclerosis.
Malini has completed four levels of training in pelvic health physiotherapy and is experienced in treating male and female patients with issues relating to pelvic pain, pregnancy and incontinence.