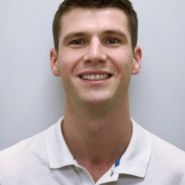 Available at multiple locations
About
Marc-André graduated from the University of Ottawa with a Master of Science in Physical Therapy after completing an Honours Bachelor of Health Sciences from the same institution.
Since graduation, he pursued various post-graduate education including the McKenzie Part A: Lumbar Spine, Mechanical Diagnosis & Therapy, and Functional Dry Needling with Kinetacore. He has also completed Level 1 Manual Therapy course within the Orthopaedic Division of the Canadian Physiotherapy Association and intends to further pursue his professional development in Manual therapy. He has also taken development courses for vestibular rehabilitation and TMJ disorders.
Marc-André's academic foundation has made him a strong believer in patient-centred care, where providing treatment that is respectful of, and responsive to, individual patient preferences and needs. His approach to physiotherapy aims to promote physical literacy and empower patients to engage or return in their preferred activities to the best of their abilities. His practice consists of a combination of manual therapy and exercise prescription, along with education on injury rehabilitation and prevention.
--------------
Marc-André est diplômé de l'Université d'Ottawa avec une maitrise en science en physiothérapie après avoir complété un baccalauréat spécialisé en sciences de la santé à la même institution.
Depuis l'obtention de son diplôme, il a poursuivi son éducation en entamant plusieurs cours tels que McKenzie : colonne vertébrale lombaire, diagnostic mécanique et thérapie, Functional Dry Needling avec Kinetacore. Il a également complété le cours de niveau 1 de thérapie manuelle avec la Division d'orthopédie de l'association canadienne de physiothérapie et s'attend de poursuivre son développement professionnel en thérapie manuelle. Marc-André a aussi pris des cours de développement pour la réhabilitation vestibulaire ainsi que les désordres de TMJ.
La base académique de Marc-André a fait de lui un grand adepte des soins centrés sur le patient, où le traitement offert est respectueux et répond aux besoins individuels et aux préférences du patient. Son approche en physiothérapie a comme objectif de promouvoir l'éducation et de pousser les patients à s'engager ou retourner à leurs activités quotidiennes, et ce, au meilleur de leurs capacités. Sa pratique est une combinaison de thérapie manuelle et de prescription d'exercices ainsi que de fournir une éducation sur la réhabilitation et la prévention de blessures.