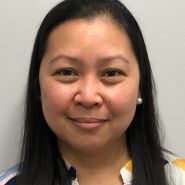 Available at multiple locations
Languages Spoken:
English
Tagalog (Filipino)
About
Maria is a very dedicated Care Coordinator emotionally invested in whatever she does. She is hardworking and organized, willing to help patients and coworkers without expecting anything in return. Maria works above and beyond to make every patient and coworkers happy and to get things done.
Maria describes herself as having a little bit of a sense of humor, is sensitive, and likes music and dancing.