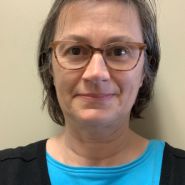 Available at multiple locations
1440 Main Street East., Unit #5
About
Mary Ann graduated with a Bachelor in Kinesiology from McMaster University in 1989. She is a Registered Kinesiologist with the College of Kinesiologists of Ontario. She has completed training in Occupation Rehabilitation, Functional Abilities Evaluation – WorkWell protocol, Ergonomics and Physical Demands Analysis.
Mary Ann's practice involves exercise prescription while in the clinic and home exercise to help restore function from injury or surgery. Her goal is to provide education regarding injury, symptom management and the importance of being active on a daily basis.
She is active herself enjoying walking all year long, whether in the city or on trails, skiing, weight training, spin class and yoga. When she is not active, she loves trying new baking/cooking recipes, knitting and gardening.