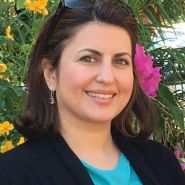 Available at multiple locations
1550 Kingston Road
Suite 204
About
Maryam graduated from the University of Medical Science in Iran and obtained her honors bachelor of science in physiotherapy in 2001. She spent several years working in outpatient clinic and hospital setting and gained experience in treating a wide variety of orthopedic and neurologic conditions.
Maryam has completed courses in K-taping, soft-tissue release, assessment and treatment of SI joint, and is perusing courses in acupuncture. She loves to learn new things and is always looking to upgrade her skills.
Maryam enjoys yoga, Pilates, photography, watching documentary movies and spending time with her families and friends.