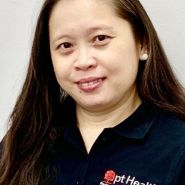 Available at multiple locations
Languages Spoken:
English
Tagalog (Filipino)
About
Michelle is currently working as a Physiotherapy assistant at pt Health Main & Gerrard Physiotherapy Clinic. She has been working in the clinic since 2012. She has completed her Bachelor degree as a Physiotherapy in the Philippines. She went to Israel to work other job and then decided to work her in Canada for better opportunities.
She is now pursuing her career to become a license Canadian PT. She loves travelling and listening to music during her spare time. She attended various seminars and courses related to Physiotherapy to enhance and further her knowledge. Her work experience in different clinics exposed her in different scenarios that strengthen her Physiotherapy Assistant skills.