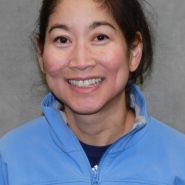 PT, BScPT, Pelvic Health Physiotherapist
Available at multiple locations
About
Mika graduated from the University of Alberta in 1996 with a Bachelors Degree of Science in Physical Therapy.  She worked in New Orleans, Louisiana for nine years in various areas of physical rehabilitation, most notably under two orthopedic surgeons in their private practice.  Upon returning to Canada in 2005, she has pursued her manual therapy and acupuncture continuing education.
Mika has been trained in manual therapy, spinal manipulation, IMS and acupuncture.  She can also prescribe diagnostic imaging for her patients. Mika has been certified as a McKenzie credentialled therapist joining a short list of Physiotherapists within the Alberta area. She has completed her Complete Concussion Management Certifications and is able to offer baseline testing and concussion management.
She recently completed her Pelvic Health certification and able to treat male and female clients.
Having been involved in sports from a young age, Mika competed at the Canadian Junior and Senior National levels for several years, and has a particular interest in helping young athletes reach their goals.  Mika was also an elite runner and triathlete in Louisiana until an unfortunate training accident left her as an L1 paraplegic in 2003.  However, she still has a passion for sports and fitness and continues to swim train regularly.  She would like to transfer her life and professional experience to inspire others to reach their goals.