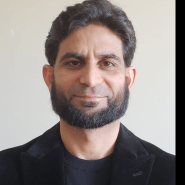 Available at multiple locations
About
Shabir is a compassionate registered physiotherapist with over 10 years of direct client care experience while working in multidisciplinary and hospital facilities. He graduated with a Bachelor of Science in Physiotherapy from King Edward Medical University of Pakistan in 2000. He continued his professional growth and development then obtained a Transitional Doctor of Physiotherapy also from King Edward Medical University in 2012 just before immigration to Canada.
Shabir believes in holistic treatment thus treating the individual rather than just the impairment. His approach incorporates a thorough assessment and evaluation to formulate a customized treatment plan for his clients. He advocates a combination of therapies including manual therapy such as mobilization and proprioceptive neuromuscular facilitation techniques, myofascial release, soft-tissue techniques and stretching, as well as application of modalities such as ultrasound and interferential current. He encourages active participation of clients in the treatment program with a home exercise program.
Shabir's areas of interest include treatment of musculoskeletal impairments originating from work-related repetitive stresses and poor posture, rehabilitation of athletes suffering from sports injuries, and impairments resulting from motor vehicle accidents. He is particularly interested in the treatment of neck and shoulder, lower back and knee impairments.
Shabir is registered with the College of Massage Therapist of Ontario. While he was in the process of becoming a registered physiotherapist in Canada, he obtained a diploma of massage therapy from Sutherland-Chan School of Massage Therapy and has four years of experience working as a registered massage therapist. Shabir effectively incorporates manual skills learned during massage education, such as connective tissue and myofascial release techniques, friction and other soft-tissue techniques, in the physiotherapy treatment plan of the clients to accomplish a better outcome.
Shabir has an enduring desire to upgrade his skills and advance his education in physiotherapy. Currently, he is advancing his career in the orthopaedic division of Canadian Physiotherapy Association and is looking forward to completing five levels of Canadian Academy of ManipulativeTherapy to become a CAMPT.
In his leisure time, he likes to spend time with his family playing soccer, cricket, badminton and basket ball, as well as travelling to recreational places. He also enjoys helping his wife garden.
He will also be offering Virtual Care for current and new clients. Please visit the website for more information.