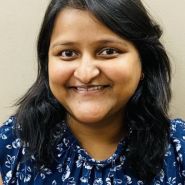 Available at multiple locations
Languages Spoken:
English
Gujarati
Hindi
Punjabi
241 R.C.A.F. Road
Suite 160
About
Palak graduated from a well known college in India in 2014, with a Bachelor of Physiotherapist degree. She further pursued fitness and health promotion course from Humber College, North Campus in 2016. Since then she has been working with patients of all ages with Musculoskeletal, post-op, MVA, WSIB etc injuries. She has an exceptional interpersonal and communication skills. Her ability to take specialized care for her clients have led her to be admired not only by her working colleagues, but also by the patients and their family members.
In her spare time she loves to listen to music and sing.