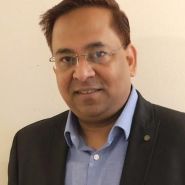 Available at multiple locations
Languages Spoken:
English
Gujarati
Hindi
Marathi
Urdu
150 Robert Angus Drive
Unit 200
About
Prashant Khapekar has been a Physiotherapist since 1999, which includes more than 12 years in India before moving to Canada. He has worked in Ontario before relocating his family to the Atlantic coast in 2019. He has additional training in aspects of sports physiotherapy and health management.
He enjoys watching and playing Cricket, Soccer, and Badminton, going on a long drives with his family and friends and loves to relish the Indian spicy delicacies.