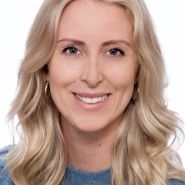 Available at multiple locations
Purdy's Landing
1949 Upper Water Street, Suite 205
About
Rachel is a graduate from Dalhousie University with a Bachelor of Science in Kinesiology. She then continued her education in Toronto at Canadian Memorial Chiropractic College, where she obtained her Doctorate of Chiropractic.
Rachel was born and raised in Orangeville, Ontario where she was very involved in the athletic community especially competitive hockey. This allowed her to be exposed to chiropractic care which ended up helping immensely in her athletic journey. To this day, Rachel has translated her love for sports including hockey to overall health and wellness. Her hobbies include hockey, yoga, snowboarding and running. Rachel remains very involved in the local gym communities and enjoys teaching various fitness and rehabilitation classes.
Rachel provides personalized manual care to patients of all ages, with an emphasis on biomechanics to optimize health and wellness. She believes in individualized patient care incorporating a variety of techniques that include manipulation, acupuncture, cupping, myofascial release, and gait analysis. She has a particular interest in treating pre and post-natal patients. She is an Ambassador for the GrowCo Rehabilitation community, which focuses on postpartum core and pelvic floor rehabilitation.
In her spare time, you'll likely find her outside on an adventure with her puppy (Ziggy) exploring all that Halifax has to offer. She is passionate about all things health and fitness related and enjoys incorporating an active lifestyle into her treatments.