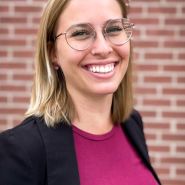 Available at multiple locations
1385 Woodroffe Ave Building E
Building E
About
Rebecca graduated from the University of Ottawa with an undergraduate degree in psychology as well as a Master of Health Science in Occupational Therapy. Her objective is to prevent injury and disability, promote health and well-being as well as help individuals overcome their occupational performance difficulties to help them on their path to increased independence.
Rebecca explores every situation with a holistic approach in order to address all pertinent factors that may interfere with a client's ability to participate in their daily activities. This allows her to adapt her interventions to the needs and desires of her clients, with the goal of supporting client centeredness, a core value of occupational therapy.
One of Rebecca's favorite things to do is to use her creativity to solve day-to-day problems. This is a mentality she tries to take into each ongoing and new client engagement in order to become a more complete occupational therapist and improve the wellbeing of her clients.
In her spare time, Rebecca likes to stay busy with hiking and home projects like brewing kombucha and creating macrame personal and home accessories.