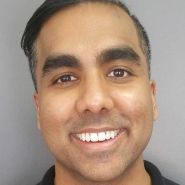 Available at multiple locations
2 Fisherman Drive, Unit #7
About
Reubain graduated with a Doctor of Chiropractic from New York Chiropractic College. He is a member of the College of Chiropractors of Ontario and Ontario Chiropractic Association. During his clinical experience, he examined, diagnosed and managed patients presenting with low back and neck pain, sprain/strains, carpal tunnel, elbow pain, hip and shoulder instability and post-surgical knee pain.
Reubain's primary focus is to educate patients on the management and reduction of pain, improvement in activities of daily living, and performance enhancement, by taking the time to listen to their concerns. His treatment specialties include, diversified technique, instrument assisted soft tissue mobilization, Rock tape, pin and stretch and home exercises.
In his spare time, he enjoys solving puzzles, travelling and tasting different food around the city. Recommendations are always welcomed.