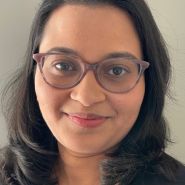 Available at multiple locations
About
Richa is an internationally trained physiotherapist who completed her Bachelor's degree in Physiotherapy in 2011 and Master's degree in Musculoskeletal and Sports Physiotherapy in 2013. After her arrival in Canada, undergoing various processes she was licenced to practise physiotherapy in 2016.
Richa is passionate about working with orthopedic cases and women's health. She has taken various education courses to work with pelvic health for men and women to help them with optimal function in all areas of their lives. She has special interest in chronic pain. She has over five years of experience working with complex pain patients.
Her philosophy in rehabilitation is to empower her patients with education, provide them with tools to help them in the recovery process tailored to meet each individual patient's need. She believes in following the patient's goal to help them recover and reach their function.
When not in the clinic you will find her spending time with her family and outdoors (especially when the sun is shining bright). She shares her love for physiotherapy with cooking and painting. Richa is fluent in English, Gujarati and Hindi.