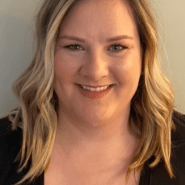 Available at multiple locations
About
Shelbie graduated from the University of Alberta in 2017 with a Master of Science in Occupational Therapy. Prior to her graduate studies, she completed a Bachelor of Science degree at the University of Alberta as well. After completing her undergraduate degree, Shelbie was unsure what direction she wanted to take her future career. She was lucky to discover Occupational Therapy while volunteering with an adaptive golf program and hasn't looked back. 
She has worked in the mental health realm for most of her career, working in acute geriatric psychiatry and with the unhoused population in downtown Edmonton. As a therapist, Shelbie strives to provide her clients with collaborative, client-centered, and evidence-based care. Shelbie will always say her favorite part of being an Occupational Therapist is spending time with the clients and helping them to engage in meaningful activities and achieve their goals. 
In her free time Shelbie enjoys going on walks with her dog, spending time with her partner, and crocheting.