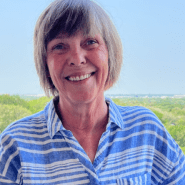 Available at multiple locations
Springborough Professional Centre
#221, 30 Springborough Blvd. SW

Southland Leisure Centre
2000 Southland Drive S.W.
About
Shelley has worked in multiple clinic and employer settings since obtaining her Bachelor of Science in Physical Therapy in 1996 at the University of Saskatchewan.
She initially worked in orthopaedic private practice settings. This quickly led to an interest in injury prevention and she began to include facilitating injury prevention workshops and seminars for employers and supervisors into her physiotherapy practice.
In 2004, Shelley's vestibular journey began when she had the good fortune to meet and be mentored by Sheelah Woodhouse (currently the National Director of Vestibular Rehabilitation for Lifemark; past-president of VEDA). She obtained her Certificate of Vestibular Rehabilitation in 2005 from Emory University. Almost two decades later, she still has a passion for helping clients with dizziness and balance problems whether it be due to a vestibular pathology, concussion, or other concern. She also remains committed to senior's fall prevention.
Outside of work, Shelley enjoys spending time with family and friends doing something or nothing.