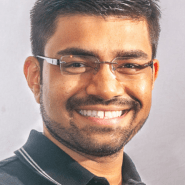 Available at multiple locations
1235 Trafalgar Rd, Suite 401
About
Siddharth is a dynamic and compassionate physiotherapist for whom his patient-centered approach is the key to return his clients to work/sports. He strives to provide the highest quality of care through hands-on manual therapy and individualized exercise programs for each client. Siddharth uses Mulligan Mobilization, the Maitland Approach, active release techniques, taping, and neurodynamic techniques as a part of his therapy.
He has completed TMJ Certification from APTEI, Canada. Having a background of being a Sports Physiotherapist in Soccer for more than five years, his area of interest lies in sports, active population and weekend warriors. Siddharth holds a Master's degree in Sports Physiotherapy from D.Y. Patil University, and a Bachelor in Physiotherapy from Rajiv Gandhi University, India.
He is currently practicing as a Licensed Resident Physiotherapist in Ontario. He wishes to pursue FCAMPT and Acupuncture certifications in Canada. When not working, Siddharth likes to engage in outdoor activities and working out in the gym.