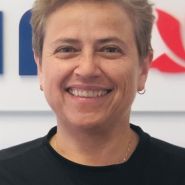 Sonja J. Martinez Alvarez
Available at multiple locations
About
As practitioner of Traditional Chinese Medicine Acupuncture, registered in Ontario, Sonja's focus is on providing patients with thorough, individualized, and comprehensive care, treating a variety of specific conditions and symptoms. Traditional Chinese Medicine has a strong focus on prevention and is beneficial in the maintenance of good health despite the many demands and challenges of a busy lifestyle. More than just treating diseases, Sonja promotes preventative health, wellness and patient empowerment. She is very committed to helping people feel their best and really enjoys her work.
After years in the fast-paced world of advertising business, she went looking for a more fulfilling path. By chance she crossed paths with acupuncture and hasn't looked back.
Sonja graduated with high honours in TCM Acupuncture from the Shiatsu School of Canada.
She has also taken courses in Medical Pulse Diagnosis, Cosmetic Acupuncture and Scalp Acupuncture for Neurological and Post Stroke conditions. She can also perform cupping, gua sha and auricular acupuncture.