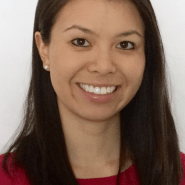 Available at multiple locations
About
Sophia's interest in the health and fitness field stemmed from a young age as a dancer, developing her aspiration to pursue physiotherapy. Sophia graduated from University of Queensland, Australia with her Master in Physiotherapy in 2009. Prior to that, she completed her undergraduate degree in Kinesiology at the University of Calgary.
Sophia has completed her certification in Gunn IMS, acupuncture through Acupuncture Foundation of Canada (CAFCI), and Level II Orthopaedic Manual and Manipulative Physiotherapy. Additionally, Sophia has a keen interest in brain function/injury and has experience working with a concussion/TBI and a variety of other neuro population. 
In her spare time, Sophia enjoys being active out in the mountains whether it's hiking, snowboarding or biking. She also loves traveling the world.