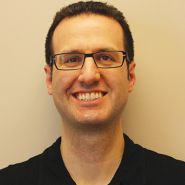 Physiotherapist/Clinic Director
Available at multiple locations
1440 Main Street East., Unit #5
About
Stefano graduated with a Bachelor of Science in Physical Therapy from the University of Toronto in 2003 after completing an Honours Bachelor of Science in Biology from McMaster University in 2000.
His present practice involves assessment and treatment of patients presenting with orthopaedic issues, including patients involved in motor vehicle accidents, workplace injuries, sports injuries and post-surgical patients.
Stefano joined Lifemark in 2014 and became Clinic Director in 2017.
Stefano has been a member of the Ontario Physiotherapy Association and the Canadian Physiotherapy Association since 2003.
Born and raised in Hamilton, Stefano enjoys staying physically fit by spending time outdoors with his family.