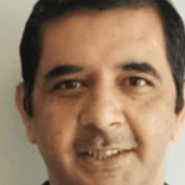 Available at multiple locations
2 Fisherman Drive, Unit #7
About
Sunil graduated as Physiotherapist in 2006. He has worked in multiple settings in India and Canada, treating musculoskeletal injuries. In 2010, he worked as a sports physiotherapist at the Commonwealth Games in Delhi.
Sunil likes to take the time to get to know his patients so that he can understand their needs and concerns. His treatment approach is a combination of therapeutic exercise, manual therapy and patient education.
Sunil has completed courses in Acupuncture and Vestibular Disorders. He plans to take additional continuing education courses to further improve his manual and practical skills for treating patients with various musculoskeletal disorders.
Sunil has experience treating a variety of conditions including, but not limited to, frozen shoulder, rotator cuff injuries, low-mid back pain, plantar fasciitis, tennis/golf elbow, post-op hip/knee/elbow replacement, whiplash injuries, Motor Vehicle Accident(MVA) patients, work related injuries (WSIB patients) and vertigo.