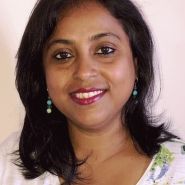 Available at multiple locations
About
Sushmita completed her Bachelor of Physiotherapy degree in 2006 from DAVV Indore, India. Then, after working as a PT for a year in a Trauma hospital, she went back to school and completed her masters in Physiotherapy in Orthopedics in 2009 from BU Bhopal, India. Since then she has worked in various govt. and private hospitals, clinics and rehab centers.
She has a lot of experience with musculoskeletal, neurological, vestibular, antenatal/ postnatal, intensive care and postsurgical care.
Very keen and eager to learn, she is now well versed in techniques like joint mobilization, Myofascial release, Muscle energy technique, Basic McKenzie techniques, neurodynamics and Dry needling. Over the course of her career she has done many workshops and CMEs in Traumatic injuries, burn rehabilitation, ICU management, Vestibular rehabilitation to name a few.
She has also taught in various Physiotherapy colleges and CMEs.
She also used to conduct antenatal and postnatal classes where she used to do educational sessions for moms and their families on a regular basis. She has also successfully treated various pelvic conditions like male and female incontinence, prolapse uterus, and postsurgical cases for the same.
She had also conducted wellness programs for diabetes, hypertension and other lifestyle diseases.
She had been part of numerous rehabilitation camps for physically challenged conducted by governmental and non- governmental organizations over the years of her practice.
She had successfully run her own clinic apart from working in a multispecialty hospital for 5 years, before migrating to Canada.
Very passionate with her work, she is also an avid reader and likes to pen down her thoughts in cultural magazines sometimes.