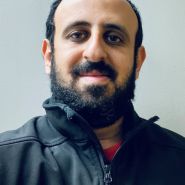 Available at multiple locations
2249 Carling Avenue
Suite 105
About
Tamer graduated from October 6 University in Egypt with a Bachelor in Physiotherapy in 2009. He worked in Egypt's hospitals for five years with a focus on neurology & sport medicine. There, he completed sports medicine, sports injuries & physiotherapy, and radiology courses specializing in back pain management.
He continued his education at McGill University completing his Canadian equivalency courses and then went onto passing his Canadian national exams in 2017. Since then, he has taken courses and workshops including: Acupuncture & Dry needling, The Temporomandibular Joint, Radial Shockwave Therapy & Multiple bracing workshops. In 2020, Tamer finished his FIFA Diploma in Football Medicine.
Tamer has always been interested in soccer & running. In high school he represented his school in soccer and he won multiple championships. His favorite team is Chelsea F.C. and one of his dreams is to attend the 2026 FIFA World Cup in Canada.