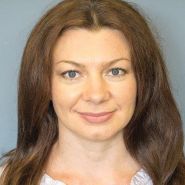 Registered Massage Therapist
Available at multiple locations
About
Tania completed a Registered Nurse degree and Medical Massage Therapy training in Russia followed by eight years of working in a rehab hospital. She has continued to follow the healing path through her membership as a Natural Health Care Practitioner of Canada and is a member in good standing with the Turner Institute. 
She feels very fortunate to be working with a multidisciplinary team at Lifemark. She strives to provide competence, compassion and creativity when helping clients recover from their injuries; at the same time, providing them a relaxing and healing experience. Tania continually advances her knowledge through additional training in osteopathy, body and face sculpturing and infant massage. 
Tania was born and raised in Armenia, and also lived in Russia for 15 years.  Tania is married, has a 17-year old daughter and a little German Biewer Yorkshire. She is a big nature-lover and enthusiastic gardener. Her biggest passion is connecting with the world, traveling and appreciating other cultures.