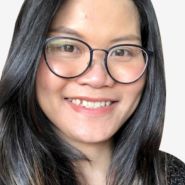 Available at multiple locations
20 Pine St. North, Unit C

555 Prince Charles Drive North
Unit 108
About
Tani obtained a BSc (Honours) degree in Physical Therapy from Srinakharinwirot University, Thailand in 2013 and completed an Ontario International Educated Physiotherapists Bridging Program from University of Toronto in 2018. Since graduating, she has years of experience, working in both hospital settings and private clinics. She practices in musculoskeletal conditions and also has special interest in pelvic health.
She then completed pelvic health courses level 1 and 2 & 3, and treating patients in urinary incontinence, pelvic organ prolapse and other conditions of pelvic pain. She enjoys helping all patients conditions, focusing on patient center care and tailoring treatments to each individual.
Outside from work, Tani enjoys spending time with her family, friends and her dogs. She loves traveling, hiking, rollerblading and any adventurous activity.