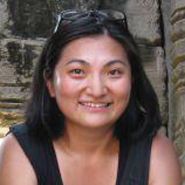 Registered Massage Therapist
Available at multiple locations
15379 Castle Downs Road Northwest
#201
About
Thu graduated from Grant MacEwan University's Massage Therapy Diploma Program in 2010 with distinction. She received training in massage techniques such as hydrotherapy, manual lymphatic drainage, myofascial release, trigger-point therapy, proprioceptive neuromuscular facilitation, muscle energy and joint mobilizations. Thu maintains active membership with the Massage Therapist Association of Alberta.
In 2014, Thu completed Moksha Yoga teacher training. Thu believes that massage and Moksha Yoga can bring balance to your work life. They both can help to reduce stress to allow your body to function at its optimal level. Thu is often in the hot room at Moksha playing with breath and movement to achieve a healthy and balanced lifestyle.
Thu enjoys the challenge of learning new things by keeping up to date with continuing education courses. She is also currently a teaching assistant at Grant MacEwan in the Massage Therapy Program.