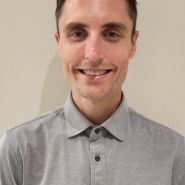 Available at multiple locations
About
Travis finished his Masters of Physical Therapy in 2017, which was preceded by a science-focused Bachelor of Kinesiology degree. This education has provided him with a strong foundation of human health, anatomy, and physiology knowledge, for which to practice Physiotherapy successfully on.
Travis is passionate about the power of regular movement and physical activity, and its effect on human health and wellness. His aim is to help people continue living healthy and meaningful lives by empowering people to overcome the barriers that they may face. He creates unique plans to support each person's journey, placing emphasis on teaching people active self-management of their own health and wellness.
Individualized exercise, manual therapy, intramuscular stimulation (IMS, ie. dry needling), and ongoing education are integral parts of his treatment sessions. Evidence based guidelines are a key component in his practice, and he prides himself on keeping current; continual learning throughout his career is quite important to him!
He has experience working with an array of musculoskeletal disorders and a variety of populations, including recreational athletes, older adults, runners, and more. He also has a special interest in minimal footwear and natural foot health and training. Additionally, Travis possesses knowledge in assessing and treating common vestibular disorders.
Physical activity and exercise has always been important in his life, with current passions in running and bouldering, as well as experience with weight lifting. Additional hobbies and interests include reading, coffee, hiking, snowboarding, cycling, and outdoor activities.
Advanced certifications:                   
Reconciling pain Science and Biomechanics

Advanced Vestibular Rehab Course        

Foot collective Seminar and workshop

Introduction to Vestibular Rehab

Foundations Health Education: Anatomic Neuropathic – IMS 

Evidence in Motion: Management of Upper Extremity Disorders

 Evidence in Motion: Management of Cervical-thoracic disorders 

Evidence in Motion: Management of Lumbopelvic Disorders           

Mulligan Concept Lower Quadrant                        

Part A: The Lumbar Spine MDT (Mackenzie)

Application of Evidence and Manual Therapy to Spinal Pain