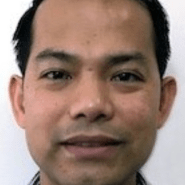 Available at multiple locations
Languages Spoken:
English
Tagalog (Filipino)
About
Vic Edangal is a highly trained and skilled physiotherapist with a Bachelor of Science in Physical Therapy from the Philippines in 2000. He has a wealth of experience having worked in orthopaedic and neurological hospital settings in the Philippines and Saudi Arabia. Vic is a firm believer in continuing education, having completed postgraduate courses in healthcare management and various advanced courses in Vestibular, Concussion, Intramuscular Stimulations, and arthritis education programs.
Vic has been working in private practice since 2014. He is passionate about providing hands-on techniques and personalized treatments to his clients. He is always looking for new ways to help his clients and make a positive impact on their movement and well-being. Outside of work, Vic enjoys cycling and spending time with his family, exploring new places and trying new things around the city and local lakes. Vic is grateful for his career as a physiotherapist and the opportunity to interact with amazing people each day.