Author Details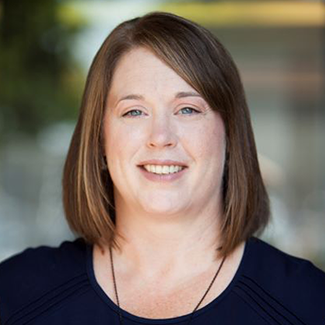 Reg. PT., M.Sc.PT., H.B.K. | National Director of Program Development, Specialty Services
Note: The exercises and/or stretches in this blog are not intended to replace the advice of your clinician. If you are unsure, please speak to your clinician before attempting any of the suggestions below
Adjusting to a virtual classroom setting can be very difficult on the mind and body. Spending too much time sitting, slouching, or looking at screens can lead to repetitive strain injuries, muscle and joint pain, and frequent headaches. 
The good news is that frequent stretch breaks may be able to prevent them from occurring. Regardless of where you are studying from, these stretches are simple enough to be done anywhere.
Dynamic stretches are a great way to warm up your muscles and promote blood flow, whereas static stretches are great for decreasing feelings of tension in the body and promoting relaxation. When paired, they can make for a quick and effective movement break between your online classes!
Why stretch?
Incorporating stretch breaks into your day can:
Increase circulation
Decrease feelings of muscle tension
Promote relaxation
Reduce aches and pains
Improve your posture
Decrease tension headaches
Before you begin
Take a minute to centre yourself by taking a few deep breaths. As you breathe, become aware of your environment, and acknowledge how your body feels. 
Deep breathing can help calm your mind and may decrease feelings of tension, stress, or anxiety. 
Start in a standing position.
Close your eyes or soften your gaze and place one hand on your stomach. and take 3 deep breaths .
Take a slow deep breath in through your nose and feel your stomach expand into your hand.
As you exhale through your mouth, feel your stomach slowly fall. Repeat for 3 breaths.
Watch the video above and / or read below to learn more about different stretches you can do while working or studying from home. 
Begin with dynamic stretching
 1. Spine rotation

Stand with your knees slightly bent.
Take a deep breath as you stick your chest out and reach your arms above your head
Exhale as you slowly lower your arms, twist and reach to one side.
Repeat 5 times each side
2. Side bend
Stand with your feet hip width apart. Take a deep breath in.
Breathe out as you lift one arm above your head and slowly bend sideways while reaching down with your opposite hand.  You should feel a stretch at the side of your trunk. 
Slowly return to initial position.
Repeat 5 times each side.
3. Thoracic extension

Stand with your back against the wall, your chin tucked in, feet slightly away from the wall.
With your elbows bent, raise your arms overhead and touch the wall with your fingers.
Keeping your fingers on the wall above your head, open up your elbows and touch them to the wall on either side of your head.
Slowly lower your arms as if you are making a snow angel.
Try to keep your head, shoulders, and back in contact with the wall throughout the whole movement.
Return to starting position and repeat 5 times.
Static stretching
4. Standing iliopsoas stretch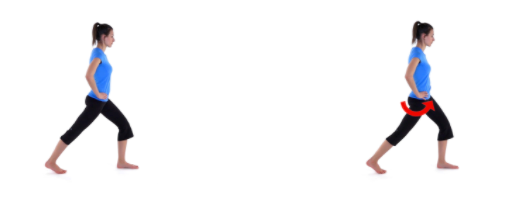 Stand with one foot in front and your back knee slightly bent.
Tilt your buttock under you and shift your weight onto your front leg.  You should feel a stretch in the front of the opposite hip.
Take deep breaths as you hold for 30 seconds.
Repeat on the other side.
5. Pectoral stretch

Stand next to a wall and place your forearm along the wall at shoulder height with your elbow bent.
Gently step forward until you feel a stretch across your chest.
Take deep breaths as you hold for 30 seconds.
Repeat on the other side
Tip:
Place your arm lower than shoulder height to emphasize stretch in the upper chest
Place your arm higher than shoulder height to emphasize stretch in the lower chest
6. Wrist extensor stretch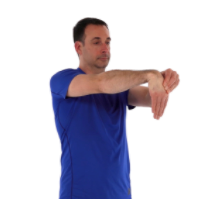 With your elbow straight, use your opposite hand to grab your hand and bend the wrist downwards.
Hold for 30 seconds and repeat on opposite side.
7. Wrist flexor stretch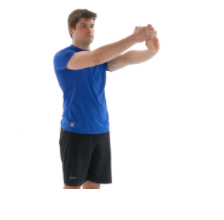 With your elbow straight, use your opposite hand to pull your hand backwards.
Hold for 30 seconds and repeat on opposite side.
Getting your body up and moving is important, but don't forget to move your eyes as well! Every 20 minutes, you should look away from your screen and focus on something that is 20 feet away for 20 seconds. Changing your focus will help avoid eye strain.
Movement matters
The effects of the pandemic and the implementation of virtual schooling have caused many students to become more sedentary than usual. This is why it's important to try and incorporate movement into our day. 
Even if you can't find the time for a stretch break, you should aim to get up out of your chair every 30 minutes or so.
Walk around the house between classes, walk to get a snack, and remember to give your eyes a break from your screen!
If you're interested in setting up an in-depth assessment with a clinician, book an appointment online or check our locations page to find a clinic near you.
This blog was written by Emily Karageorgos, a Physiotherapy student at The University of Toronto
Author Details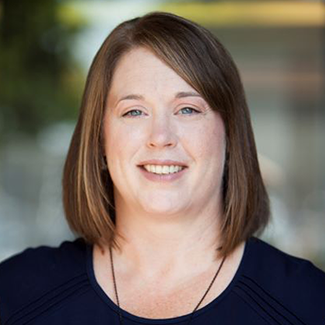 Reg. PT., M.Sc.PT., H.B.K. | National Director of Program Development, Specialty Services