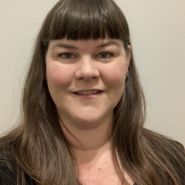 Registered Counselling Therapist
Available at multiple locations
About
Amanda Gee is a Registered Counselling Therapist and a Registered Canadian Art Therapist. Raised between Prince Edward Island and Nova Scotia, she moved to Toronto in 2002 to pursue post graduate studies in art psychotherapy and practiced in Ontario for 15 years. Amanda moved home to the Martimes in July 2021.
Amanda believes in a holistic approach to counselling therapy, incorporating many modalities into her work. She has additional training in cognitive behavioural therapy (CBT), and dialectical behaviour therapy (DBT). She also specializes in providing counselling therapy and art therapy to individuals with intellectual disabilities, and in providing grief support throughout the lifespan. Amanda is the current President of the Board of Directors of the Canadian Art Therapy Association.
In her off time Amanda enjoys spending time with family, exploring nature, and art making of all kinds.