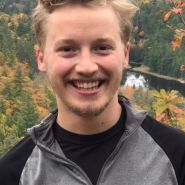 Speech Language Pathologist
Available at multiple locations
2121 Carling Avenue
Unit 12, Entrance 6

790 Blackburn Mews, Unit # 12
About
Ben graduated from McGill's School of Communication Sciences and Disorders with a Master of Speech-Language Pathology. He is clinically certified through the College of Audiologists and Speech-Language Pathologists of Ontario. Ben holds additional certifications in swallowing assessment, voice treatment and accent modification.
Experienced in cognitive communication, transgender vocal health, augmentative and alternative communication, and group aphasia therapy, Ben covers a wide range of speech & language areas in his practice. He joined the Lifemark team in 2019.
Outside of the office Ben enjoys hiking, reading, playing piano and Dungeons & Dragons.