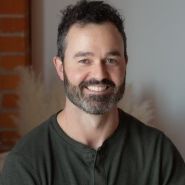 Available at multiple locations
About
Geoff Gerber received his Bachelor of Science in Kinesiology and his Master of Physiotherapy from the University of Saskatchewan. Geoff understands every patient is different and formulates a treatment plan for each individual's needs, so he specializes his practice in manual therapy, functional movement restoration and sports rehabilitation. He has practiced intensively in the areas of musculoskeletal and motor vehicle accident injuries, providing treatment for children, professional athletes, and everyone in between.
With over 10-years of experience, passion about his career and keeping up with the latest and best research, you can count on his abilities to get you better. He has his Medical Acupuncture Certification (CAFCI) from the Canadian Acupuncture Foundation and received his 200-hour Yoga Teachers Training in Calgary, which enhance his rehabilitative and home care approach to his patients. Geoff will spend the time with you to treat the symptoms but also to find out the root of each problem.
Geoff has grown up with an active and healthy lifestyle in mind. Playing almost every sport growing up and continuing to stay active with the gym, yoga, hockey, golf and baseball. Book in now to get started on improving your health or recover from an injury.