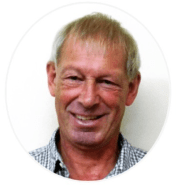 Registered Physiotherapist
Available at multiple locations
198 Queen St. E.
PO Box 211
About
Hans graduated in 1984 from Academy voor Physiotherapy, Groningen,The Netherlands. He started his Physio career at Stratford General Hospital, where he worked for three and a half years. He opened Stratford Physiotherapy Centre (currently pt Health) as the first private physiotherapy practice in Stratford in 1990. He continues to practice and shares his expertise currently out of Tavistock pt Health.
Hans is well known in Stratford and Tavistock. He has extensive experience in orthopedic work and sports injuries, he has a special interest in neuro rehab such as stroke and traumatic brain injuries. Hans is a certified MacKenzie therapist, specialized in mechanical diagnosis and treatment of back and neck conditions.
His involvement in sports included play, coach, and referee soccer and physiotherapy for the Stratford Cullitons, Junior B hockey team.