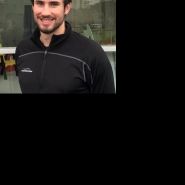 Available at multiple locations
2121 Marine Drive West
Second Floor
About
Ian is a Kinesiologist and Certified Strength and Conditioning Specialist who is passionate about helping his clients reach their goals. Ian works with ICBC patient in Aquatic Centre Physiotherapy's Active Rehabilitation Program.
He completed his Masters degree in Kinesiology and uses his education to take a science-based approach to personal training and rehabilitation. While Ian's education and training are geared towards clinical exercise, he also comes from an athletic background having played baseball at the varsity and professional levels. He incorporates the skills and training from his experiences as an athlete into his programs.
Ian is open to helping all populations and believes that people will be surprised at what they can accomplish with the right determination, work ethic, and guidance.