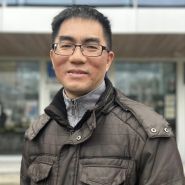 Registered Massage Therapist
Registered Massage Therapist
Available at multiple locations
2121 Marine Drive West
Second Floor
About
Jeff Qiu is a highly skilled registered massage therapist and registered acupuncturist with over 6 years of experience in the industry. He completed his training at MH Vicars massage school and specializes in deep tissue massage, trigger point release, acupressure massage, prenatal massage, and Swedish massage. In his spare time, Jeff enjoys reading history books, watching documentaries, and playing basketball.
Prior to becoming a massage therapist and acupuncturist, Jeff was a Traditional Chinese Medicine (TCM) Doctor in China. He holds a Master's degree from Guangxi University of Traditional Chinese Medicine, a Bachelor's degree from Jiangxi College of Traditional Chinese Medicine, and an MD/Ph.D. from the China Academy of Chinese Medical Sciences. With extensive knowledge of acupuncture, Jeff believes in the ancient Chinese practice of balancing the flow of energy, or chi, through meridians in the body by inserting thin needles into specific points.
Jeff's expertise and knowledge make him a popular choice for clients experiencing neck and back pain, tight muscles, muscle spasms, postural problems, tendinitis, muscle strains, tennis elbow, golfer's elbow, headaches, anxiety, and other conditions. He is fluent in both English and Mandarin and ensures his clients feel comfortable and at ease throughout their treatments.