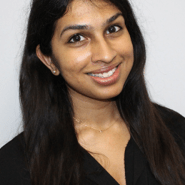 Available at multiple locations
Radio Centre Plaza,
4-875 Main Street West
About
Kaljani Mahalingam is a registered Occupational Therapist who is licensed to practice on Ontario. She is also a member of the Ontario Society of Occupational Therapists. She joined the Lifemark team in 2022.
Kaljani graduated with a Master of Science Degree in Occupational Therapy (MScOT) and an Honours Bachelor of Science degree in Psychology from the University of Toronto. She has experience working with individuals that have challenges engaging in their daily activities due to physical, functional, cognitive and/or psychosocial barriers. She enjoys collaborating with clients to establish meaningful goals as well as facilitating optimal independence through a client-centred approach.
During her spare time, Kaljani enjoys to travel and spend time with family and friends.