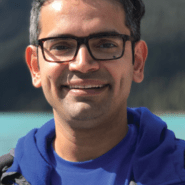 Available at multiple locations
Springborough Professional Centre
#221, 30 Springborough Blvd. SW
About
Kanishk graduated with a bachelor's degree in Physiotherapy from the Rajiv Gandhi University of Health Science, Bangalore, India in 2008. He then completed a Master of Science in Physiotherapy at Cardiff University, UK in 2013. Kanishk is also certified in Functional Dry needling (IMS) and Vestibular Physiotherapy.    
While working in India he gained a lot of experience in treating a variety of cases like orthopedic, critical care as well as neurology. His research work as a Master of Science student at Cardiff University was based on sports related injuries. He has experience in treating a variety of in-patient conditions related to shoulder, elbow, wrist, neck, back, hip, knee, ankle and foot. Kanishk also has experience in treating post-operative patients and gait re-training. He believes in evidence-based practice and clinical reasoning while updating himself in recent advances in physiotherapy, in order to provide quality care to his clients. 
Kanishk loves to explore the Canadian Rockies during his hikes and also enjoys biking and running.
Certifications
IMS/Dry Needling
Certified in Vestibular Physiotherapy