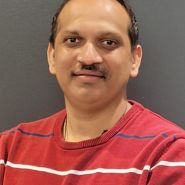 Registered Physiotherapist/Clinic Director
Available at multiple locations
267 O'Connor St.
unit# 101
About
Leenesh Khadilkar graduated form Maharashtra University of Health Sciences in India with a Bachelor of Physiotherapy in 2006. After graduating, he  started practising in India for two years. He later came to Canada to pursue his further education in physiotherapy. He completed his Master's degree in Health and Rehabilitation Sciences in 2010 from University of Western Ontario. During his Master's education and following years, he has published research in peer reviewed journals. After completing his education, he started working as Registered Physiotherapist since 2011. He brings 10+ years of physiotherapy practice experience under his belt.
He takes great joy in treating patients to help them reduce pain and improve their strength and functions, so that they can achieve their goals. His treatment combines manual therapy with joint mobilization, soft tissue and myofascial release techniques along with exercises. His treatment approach is tailor-made to fit the patient's needs and expectations, treating all kinds of musculoskeletal conditions ranging from acute or chronic neck and back pain to overuse injuries such as tendinitis and muscle and ligament injuries such as strain/sprains.
During his time working as a physiotherapist in India, he worked closely with orthopedic surgeons, allowing him to gain valuable experience and expand his knowledge about post surgery rehabilitation, post fracture management, post injuries and surgery healing.
Through his career he has been focused on enhancing his skills and knowledge through continued education. He has done McKenzie Concept course for cervical and lumbar spine helps in treating neck and back conditions ranging from derangements such as protrusion, herniation to postural pain.
He has also completed various courses in Mulligan's Concept (Movement with Mobilisation), acupuncture and dry needling, APTEI knee courses giving him more tools in his manual therapy tool box. Since completing concussion management course has been treating post concussion patients with good success. He treats TMJ, does brace fitting, compression stocking and custom orthotics.
He loves teaching and sharing his knowledge, skills and has been accepting placement students from University of Ottawa, helping them to improve their understanding about conditions, diagnosis and prognosis, clinical reasoning and manual treatment skills.
Apart from work, he likes to spend time with family and friends, playing with his kids, and watching Ice Hockey.