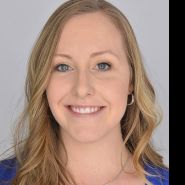 Available at multiple locations
About
Lindsay Graduated from Dalhousie University in 2018 with a Master of Science in Physiotherapy. Prior to her Physiotherapy degree, she completed a Bachelor of Science in Biology from Bishops University in 2011, graduating with the Susanna Lee Memorial Prize for academic excellence in Biology.
Lindsay took a few years off following her undergrad to experience both Canada-wide and international travel before returning home to the Maritimes in 2014.  She was then awarded the Nova Scotia Graduate Scholarship and completed a research Masters in Kinesiology at Dalhousie University. Her work focused on the effectiveness of structured play on movement development in preschool children. 
In addition to working as a Physiotherapist, Lindsay has developed expertise in exercise coaching through working as a group fitness instructor and she is passionate about helping others develop healthy active lifestyles. Lindsay is a member of the Canadian Physiotherapy Associations, is currently working on her orthopaedic advanced manual therapy levels, and plans to pursue post-graduate training in dry-needling and myofascial release.  To complement her orthopedic focus, she has experience working with a variety of neurological impairments in both the adult and children's population.
In her free time, Lindsay enjoys a variety of outdoor activities such as hiking, biking, and snowboarding, and remains active in her role as a fitness instructor.